New Car Preview: 2024 McLaren 750S
By: Malcolm Hogan
Source: https://www.automotiveaddicts.com/82752/new-car-preview-2024-mclaren-750s
McLaren has unleashed their latest supercar replacing the 720S in a succession that naturally adds power and performance with visually subtle updates. Though, McLaren makes many claims of improvements overall, as much as 30% of the supercar receives updates and changes.
Both the coupe and hardtop convertible (Spider) have been revealed for the 750S, with both being powered by the 4.0-liter twin-turbo V8 engine that now produces 740 horsepower and 590 lb-ft of torque, which is sent through an updated 7-speed sequential transmission with a shorter final drive ratio to power the rear wheels.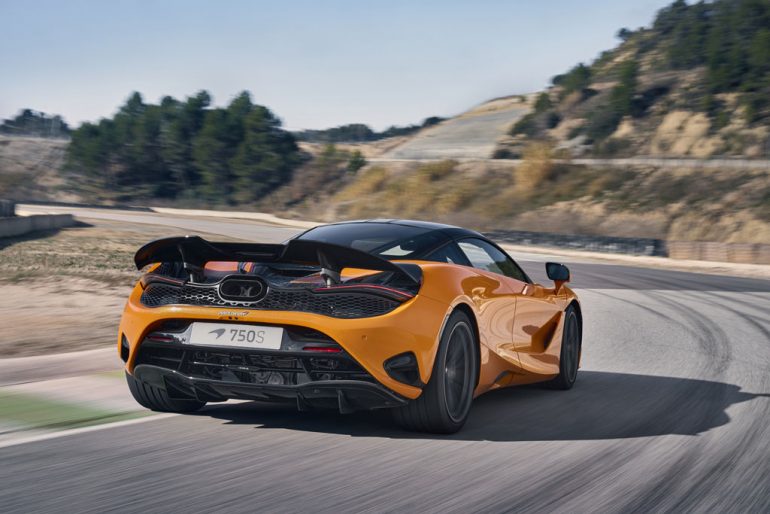 Zero to 60 mph time comes in at 2.7 seconds, and the quarter-mile should be covered in 10.1 seconds for the coupe and 10.3 seconds for the 750S Spider. The top speed is 206 mph for both the coupe and Spider.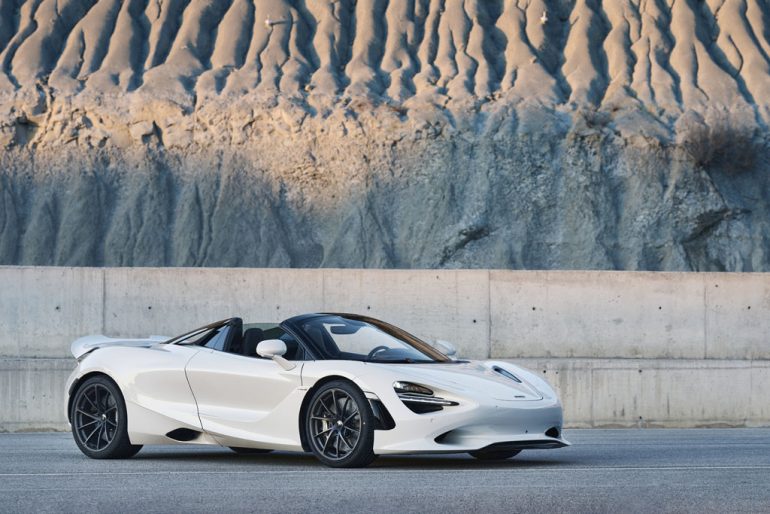 Keeping the 750S planted firmly to the ground is the work of new suspension geometry featuring Proactive Chassis Control III with 3% softer front springs and 4% firmer rear springs. The front-end lift system has also been reworked to now complete a vehicle lift in just 4 seconds compared to the outgoing 720S' 10 seconds. The front track is now wider by 0.24-inches as well. Hydraulic steering is retained for a more 'natural' feel. Oh, there's a low-drag DRS mode that does some fancy wing movements for when you want to hit the straits without minimal drag.
Other notable changes include a new front bumper that better channels air and a new 20%-larger rear active wing. There's also a new P1-inspired center-exit exhaust where the rear wing is now repositioned and sits two inches higher. The 750S also gets larger intakes flowing before the reworked rear bumper.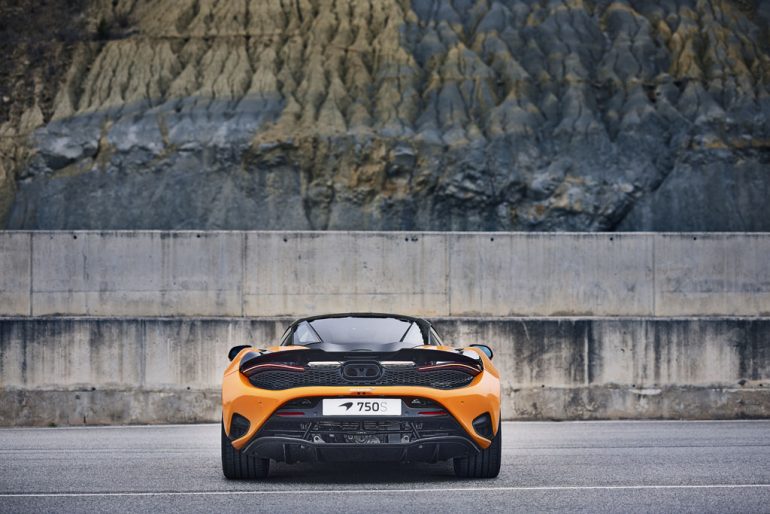 Inside, there's an abundance of Alcantara and two additional specs to choose from, Performance and TechLux. Performance is a combination of leather and Alcantara, while TechLux features Nappa leather throughout the interior. There's also customizable ambient lighting and a new dark metal finish. Lastly, there are new displays with Apple CarPlay integration for the infotainment unit and a new instrument cluster that moves inside a binnacle attached to the steering column. Drivers can customize aero settings and save them for quick access.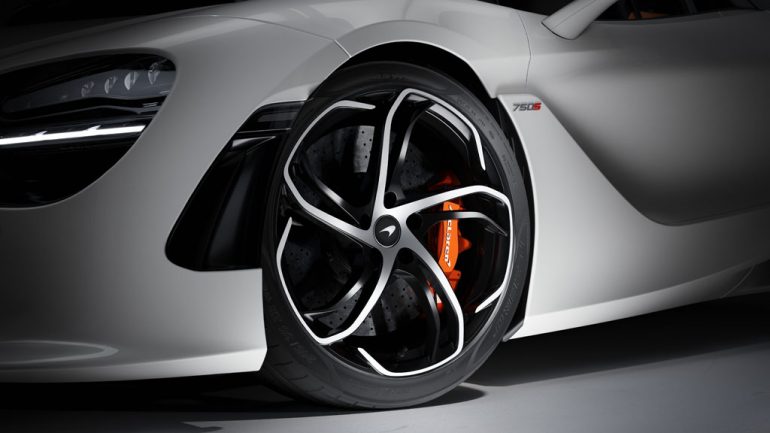 Super lightweight carbon fiber racing seats are available that weigh 7.4 pounds. Other options include an upgraded Bowers & Wilkins audio system and Pirelli P Zero Corsa or Trofeo R tires. A track brake upgrade is available that takes components from the McLaren Senna, adding larger ceramic rotors, monoblock calipers, a new booster and vacuum pump, and Formula 1 inspired cooling technology. As expected, McLaren offers their MSO program for bespoke craftsmanship with specialized themes for the 750S.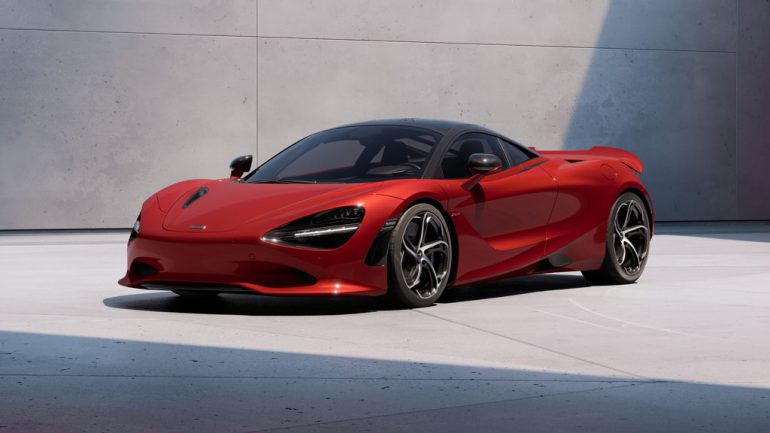 The new McLaren 750S has a curb weight of 3,062 pounds, while the 750S Spider adds 108 pounds totaling 3,170 pounds.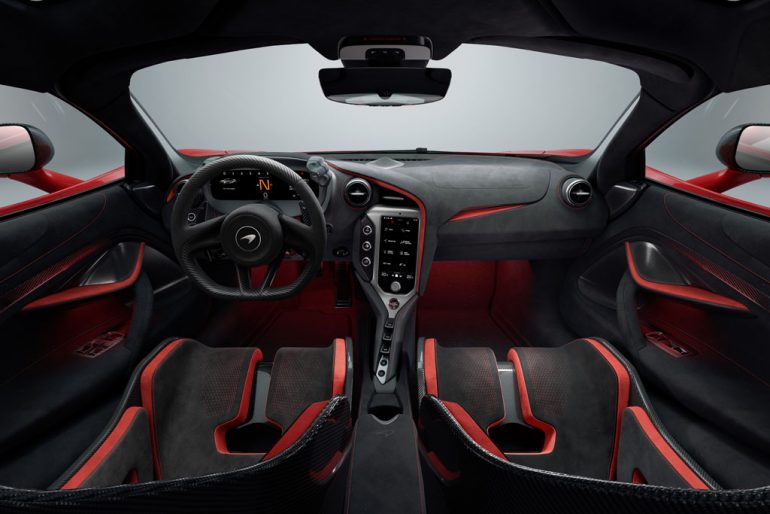 The new 2024 McLaren 750S starts at a price of $324,000 in addition to destination charges and other fees, while the 750S Spider starts at $345,000. McLaren has made the new 2024 750S available now for ordering, but there's no specific release date yet.