Is CANCUN SAFE To Visit? Travel Advisory 2023
BY: Maria Valencia
SOURCE: https://www.travelinglifestyle.net/is-it-safe-to-travel-to-cancun-right-now/
Cancun is a safe destination to visit with friendly residents and a low crime rate compared to other Mexican cities. While most visitors have no problems, there are a few dangerous places near Cancun.
Stick to well-populated locations like downtown Cancun and the hotel zone unless traveling with an approved tour or informed locals. The hotel zone is the safest area of Cancun. Here you will find a 13-mile circuit of stunning white sand beaches surrounded by resorts and hotels.
Suggested: Cancun seaweed forecast
LATEST UPDATES / NEWS from CANCUN:
April 25 – Areas You Should Avoid When Visiting Cancun
Visitors to Cancun should limit their travel to tourist areas.
This comprises the hotel zone in Cancun, gated resort communities, specific commercial areas, and other tourist destinations.
Certain communities that are infamous for crime are the ones you do want to stay away from.
The four neighborhoods that are considered to be the most dangerous are as follows:
Bonfil
Tres Reyes
Santa Cecilia
Valle Verde
It is important to note that despite warnings about safety in Cancun, millions of Americans travel there every year because it is usually a safe place to visit.
March 23 – Increased surveillance and nightclub inspections are part of Cancun's increased tourist safety measures
According to Quintana Roo Governor Mara Lezama Espinosa, security operations in the Mexican Caribbean are being carried out with the help of corporations from all three levels of government before the start of spring break.
"We are all working daily on joint actions under the new agreement for the welfare and development of Quintana Roo to increase security. We maintain a presence on all beaches with officers from the Navy, the National Guard, the Tourist Police and the State Police," she said.
She said "Operation Red Circle" begins every day at 10 p.m. to monitor bars and nightclubs. In addition to the surveillance that takes place from the C5, there are immediate attention centers called (CAIS) and tents where security cameras are constantly checked.
February 10 – Cancun Airbnbs will only be able to operate in safe areas
There will be restrictions on where online rentals can operate, which will affect availability for vacationers.
Authorities this week unveiled new measures to restrict Airbnb rentals to certain areas in an effort to reduce the number of unsafe or unsanitary rentals.
The Quintana Roo Tourism Commission, an organization affiliated with the state legislature, claims that a number of locations do not meet minimum safety requirements for online rentals. In light of many considerations, including crime rates, the new laws will specify exactly where Airbnb is allowed to operate.
Common scams to avoid in Cancun in 2023
The only disadvantage of traveling is tourist frauds (along with the expenses). It's bad that many lovely places we visit have a small percentage who live on taking advantage of innocent tourists who come to support their local economy. Cancun, Mexico, is no exception and has its own share of scammers. In 2023, here's how to prevent tourism scams in Cancun, Mexico.
Picture Scam
When a local asks you to take their picture, it's a common scam in Cancun, Mexico. They hand you their camera and asks you to take their picture. When you return the camera, they intentionally drop it and accuse you of breaking it and demand payment. Please do not photograph anyone (unless you are sure they are not locals).
Taxis Overcharging
When taking a cab in Cancun, always request that the meter be turned on. It's also a good idea to plan your route before getting in the cab so you know how long the ride will take.
Friendly ATM Helper
Someone approaches you at a Cancun ATM cash machine to assist you in avoiding local bank fees. Their ultimate goal is to scan your debit or credit card with the card skimmer in their pocket and then watch you enter your pin information so they may drain your account later.
"Friendly" Bar Friends
Beware of the following scam if hooking up is something you plan to do while visiting Cancun, Mexico. Two amiable girls (or guys) will strike up small talk and give the impression that they are interested in the same things. After that, they'll propose getting a drink and offer you to join them in a nearby bar (which they are partners with). You'll end up spending five to ten times as much after a few drinks. There are a few things you can take to protect yourself from falling for this tourist fraud in Cancun. You may start by suggesting the bar. Be sure to request the bar menu when you arrive, in order to check the prices.
Bird Poop Scam
Your natural reaction when someone puts a piece of white paste on your shoulder while you are walking the streets of Cancun is to look up and think it's bird poop. Suddenly, a "nice" local offers to help you clean it up while cursing the birds for making such a mess. They help you clean up, but they also steal from you.
Please politely decline any "help" from locals who rush to your aid unless it is an emergency. Keep everything you own hidden, preferably with your money and credit cards in an inside pocket.
Guessing Game Scam
While strolling through the streets of Cancun, Mexico, you come across a man holding three boxes, with a throng of onlookers attempting to determine which box the ball is placed in. When someone in the group correctly guesses the solution, the man awards him with cash as a prize. They repeat this with a different group member and get the same response. More and more people are drawn by the ruckus to this charitable street performer. An innocent bystander from the crowd is then invited to make an estimate. The group rapidly pickpockets them for any valuables while they are focused on where the ball is.
Safety Measures To Keep in Mind When Visiting Cancun Area
Share your vacation plans with your travel companions and family at home. Send your GPS location to a friend in case you get separated from your travel group. If you are traveling alone and taking a cab, take a picture of the cab's number and/or license plate and text it to a contact.
Use toll roads whenever possible and do not drive at night or alone. In many states, police presence and emergency services are severely limited outside the state capital or major cities.
Use extreme caution when entering local bars, clubs or casinos.
Do not flaunt your wealth by wearing expensive jewelry or watches.
When using an ATM or visiting a bank.
To receive alerts and help rescuers find you, sign up for the Smart Traveler Enrollment Program (STEP).
Follow the U.S. Department of State on Twitter and Facebook.
Follow the U.S. Embassy on Twitter and Facebook.
Read the country security report for Mexico.
Create an emergency plan. Review the travel checklist.
Why visit Cancun
1. Underwater museum
Visiting the largest underwater sculpture park will be one of your most fascinating experiences in Cancun. The museum displays nearly 500 statues created by Jason deCaires, a British sculptor and other Mexican artists.
The museum was conceived with the objective to save the coral reef by drawing snorkelers away
2. The cenotes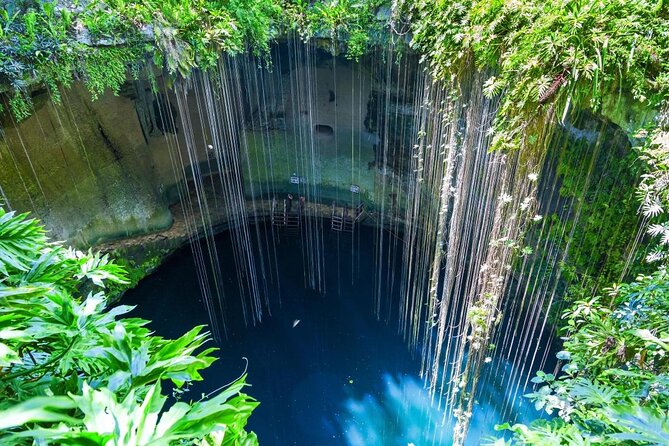 Jump on a guided tour and come visit this unique geological element of Mexico. The cenotes are natural sinkholes that expose fresh groundwater underneath.
Explore the breathtaking caves and caverns and walk the path that once the ancient Mayas considered the door to the underworld.
3. The Coco Bongo
Better to be vaccinated because it's going to be crazily crowded inside!
Ranked as one of the best nightspots in Cancun, Coco Bongo offers a unique show production, a mix of different types of music, and the very latest in audio and video entertainment, and alcohol! Rivers of it.
---
Update archives
January 24 – U.S. Issues Cancun Travel Warning Amid Attacks On Uber Drivers And Passengers
The U.S. State Department issued a travel warning for Quintana Roo State in Mexico following attacks and harassment of Uber drivers and passengers. This heat-up situation comes after a judge approved Uber's Amparo company to legally operate in Quintana Roo, including Cancun.
January 24 – Cancun continues to be safe despite a spike in violence in Mexico
Travelers can still feel safe in the State of Quintana Roo because of increased security measures, despite a recent spike in violence in various regions of Mexico. To ensure that visitors to Cancun and the surrounding area have safe holidays, thousands of law enforcement officers have been added in addition to various other safety measures.
Tourist numbers are expected to rise in the Mexican Caribbean destinations of Cancun, Playa del Carmen, and Tulum in advance of the busy winter travel season. As a result, Cancun's secretary for public security, José Pablo Mathey, declared that authorities "are trying to deter crime in high-risk zones thanks to our crime prevention units together with our federal and state partners."
January 9 – Quintana Roo is one of the safest states for tourists to visit in 2023, authorities say
Quintana Roo in Mexico remains one of the safest states for tourists, despite rising crime rates and reports of bloodshed sparked by cartel warfare in several parts of the country. This is due to improved security measures. Although organized crime is still a problem, few visitors are directly affected. And thanks to the thousands of police officers protecting tourists, visitors can feel safe on their upcoming Cancun vacation, officials say.
December 21 – Cancun has continued its tough crackdown on crime with the arrest of 5 high-profile criminals
The Coordination Group for the Construction of Peace and Security Quintana Roo has managed to arrest five people, including a woman, for their alleged involvement in crimes against health and illegal possession of firearms for the exclusive use of the Armed Forces.
The police officers took action after observing a strange exchange of items during the operation that set off alarm bells. In addition to considerable quantities of what is believed to be marijuana, police also discovered five short. 9- caliber pistols, many cell phones, and sim cards believed to be used for illegal purposes.
December 5: The number of homicides decreased in Cancun in October.
Crime is up less than 5%, and homicides have actually decreased in recent weeks.
In Cancun, the number of homicides decreased by about 16 percent in October compared to the previous month. It is also worth noting that the vast majority of these incidents do not involve tourists, but rival drug traffickers fighting over territory.
Due to the increase in criminal activity, the U.S. State Department issued travel advisories for several parts of Mexico in October. For travel to Quintana Roo, State advised "exercise increased caution" The warning said this was due to "crime and kidnappings."
October 25 – 100 Navy officers have been stationed in Cancun to help fight crime
Rear Admiral Rubén Oyarvide Pedrero, the Secretary of Public Security of Quintana Roo, visited Cozumel earlier this month to discuss the rise in some types of crime there.
He assured the community that personnel are currently being transferred to assist state and local police.
In the coming days, additional Marine personnel will be en route from Mexico City to Cozumel. These police officers will assist in both crime prevention and crime suppression. In addition, Marine Special Forces officers have been dispatched to Cozumel, arriving by plane Thursday evening.
November 16 – A tourist was reportedly found dead in a hotel room in Playa del Carmen, near Cancun.
On Monday, Nov. 14, a traveler, identified as 41-year-old Deyson Konsiechak, was found lifeless in bed at the Ocean Maya Royale hotel, just north of Playa del Carmen. The incident came to light when Konsiechak's travel partner, who also shared a room with him, returned to the hotel room and found Konsiechak dead in bed.
The cause of death had not been announced at the time of writing this update.
October – Security analyst warns Americans about 'risky' travel to Cancun and other areas of Mexico
Along Mexico's Caribbean and Pacific coasts, well-known tourist sites have been affected by incidents that put innocent people at risk.
One of the six most popular destinations in the Caribbean coastal state of Quintana Roo is Cancun, which former DEA Special Agent Derek Maltz told the Courier-Journal that he advised a friend against sending his daughter there on vacation.
I would not send my child there because it's too unsafe," Maltz said. "I'd show them the phone with all the violence down there."
Colima, Guerrero, Tamaulipas, Zacatecas, Michoacán and Sinaloa are among the states the government strongly advises American citizens not to visit.
September – State Department officials issued a warning about traveling to Cancun and nearby locations
Officials from the State Department warned of an upsurge in violence against Americans.
While the US government has not enforced travel restrictions on its employees in Quintana Roo tourist areas such as Cancun, Cozumel, and Tulum, it has issued a general warning to Americans.
"increased caution due to crime and kidnapping."
Tourists are warned to "remain in well-lit pedestrian streets and tourist zones" in the wake of shootings between rival cartels that have injured bystanders.
July – Family of American Allegedly killed In Cancun Sues Resort
The family of murdered Arlington firefighter Elijah Snow has filed a lawsuit against the Mexican resort and a local travel agency.
At the Royalton Chic Cancun Resort & Spa, Elijah and his wife Jamie Lynn Snow were commemorating their tenth wedding anniversary when the father of two was allegedly kidnapped and assassinated.
Jamie filed a lawsuit against the Royalton Chic Hotel Resort & Spa in Cancun, Blue Diamond Hotels and Resorts, Inc., and Sunwing Travel Group, a privately held travel business with its headquarters in Toronto, Canada, claiming more than $1 million in damages.
Both the hotel and the Mexican government have insisted that Mr. Snow's death was an accident, but the family has vigorously challenged those claims. The lawsuit focuses on the hotel's activities on the day of the murder. Ms. Snow alleges that the hotel recklessly encouraged its guests to get drunk and that there was inadequate video surveillance, among other security measures.
May – Safety report
This month, Mexico's Secretariat of Security and Citizen Protection reported the arrest of Oscar Iván "N," the alleged mastermind behind the murders of Robert Dinh and Thomas Cherukara, two Canadian citizens related to drug trafficking, according to officials.
According to the Security and Gender Observatory of Quintana Roo (OSEGE), the state had the fourth-highest number of femicides in Mexico in 2021, down from 13th place in 2020. It also has the greatest number of rapes reported in the country.
Furthermore, while the homicide rate has stayed constant (Quintana Roo has ranked tenth in the country in homicides since 2020), the state has the highest rate of manslaughter cases in the country.
January 17 – Cancun seeing an increase in COVID-19 cases
Cancun, one of the major tourism hot spots in Mexico, is seeing a spike in coronavirus cases after a busy holiday season.
Quintana Roo, home to Cancun, had set its daily case record in March 2021 with 574 new infections. But the figure was exceeded by the beginning of January 2022. On average, there are now around 814 new cases daily.
Quintana Roo isn't the only region struggling with Omicron. It is also Mexico City or Baja California Sur. Even for the rising number of infections, Mexico stays open for international visitors without significant safety measures.
Source: The Washington Post
December 6 – Cancun will not impose extra COVID-19 restrictions for now
Foreign travelers to Quintana Roo are not subject to any restrictions. It might change, though, if the Omicron variant presents a proven threat to the population, according to Andrés Aguilar Becerril, the local Tourism Secretary.
For the time being, Cancun will maintain the same procedures, such as temperature tests at the airport, mandatory face mask use, and random health questionnaires.
As of December 6, the US Centers for Disease Control and Prevention maintained Mexico's travel advisory rating at level 3 — "high" risk.
November 7 – Cancun continues to receive international tourists without restrictions
Cancun remains open for international visitors without entry restrictions. It has reported a rise in hotel reservations for the winter season. As of now, hotels in the whole of Quintana Roo are supposed to be occupied at 90% or more in December.
Also, on Saturday, November 6, Cancun International Airport saw 513 operations between arrivals and departures with no restrictions or health protocols for travelers from Europe, the U.S., and the rest of the world.
Source: El Sol de México
September 22 – Quintana Roo among 10 states with the highest vaccination rate in Mexico
As of today, September 22, Quintana Roo has distributed over 1.6 million COVID-19 vaccine doses, which makes it one of the top ten states with the highest vaccination rate in the country. Also, it has recently been moved to the "yellow" alert level list.
Even though most public spaces are now open again and non-essential travel is allowed, Governor Carlos Joaquín insists on following the usual preventive measures to be able to move to "green" on Mexico's traffic lights system.
He also pointed out the importance of getting vaccinated to help restore the country's economy.
August 30 – Cancun maintains high rate of tourist flow even through a spike in coronavirus cases
According to the State Secretary of Tourism, over 3 million travelers stayed in Quintana Roo this summer. Even though the holiday season is officially over, more than 120,000 visitors are still staying in the region.
On average, hotels have maintained a 60 percent occupancy rate this summer. While now during the orange epidemiology alert, only 50 percent occupancy of tourist services is allowed.
Also, a number of U.S. airlines have exceeded the pre-pandemic levels of passengers to Mexico. More than 2.3 million travelers flew to the state in July, which became the busiest month since the beginning of the pandemic.
Source: Riviera Maya News
The post Is CANCUN SAFE To Visit? Travel Advisory 2023 appeared first on Traveling Lifestyle.