A Home EV Charger Makes EV Life Easier – Review on our Home Enphase HCS-50 EV Charging Unit
By: Malcolm Hogan
Source: https://www.automotiveaddicts.com/82612/home-ev-charger-life-easier-review-enphase-hcs-50
Electric Vehicles (EVs) are an inevitable thing as automakers are setting rather aggressive dates for rolling out new EVs. In fact, many manufacturer fleets are set to go partially or fully electric in the next 12 years or so. It only makes sense to do your homework on EVs and how charging comes together. With such research, you'll quickly learn that a home EV charger will be an essential part of your transition to an EV in your household, and we happen to have made the switch to get a home EV charger because of how many new EVs we get in for test drive reviews.
Making the choice of a home EV charger can be a daunting task starting with the research of choosing which one is ideal for getting the fastest charge for your specific EV. Moreover, reading the countless reviews of home EV chargers can turn into a fiasco as well. We're here to tell you, no matter which one you select, make sure you find one that has safety certifications, such as ENERGY STAR, ETL, and cETL, and find one that suits your specific EV's charging needs – primarily in terms of amps. Ideally, a 40-amp model will suffice for most EV needs and give you a respectable charging time to get a full charge for most EVs overnight.
Which EV Charging Unit Did We Get?
We were able to get in the Enphase HCS-50 home charger, which was previously branded as ClipperCreek. The new branding is from Enphase acquiring ClipperCreek. Enphase happens to be the leading supplier of microinterver-based solar and battery systems, so they are pretty deep into the fray of electrification. The only difference in the unit that we noticed is that the Enphase unit is now made in Mexico as opposed to the outgoing ClipperCreek units being made in America.
It only made sense to choose the new Enphase HCS-50 home EV charger as we invested in Enphase solar equipment and backup batteries for our home. Fortunately, due to our relationship with Enphase, they were able to send us a new Enchase HCS-50 home EV charging unit, which is a unit that can plug into a dedicated 240-volt NEMA 14-50 outlet. With such a connection, the Enphase HCS-50 home EV charging unit can charge up to 40 amps, which meets the compatibility of having at least a 50-amp breaker circuit connected to the NEMA 14-50 outlet.
Installation and Operation
The Enphase HCS-50 EV charger happens to be a relatively rugged-constructed unit that's weatherproof and touts a remarkable 5-year warranty. During our installation the only disappointment was that the NEMA plug was very short for connecting to our NEMA 14-50 outlet. But lucky for us, we purposely positioned our outlet to accommodate for such a charging unit locating it near our garage door so there's an easy reach for our parked EVs. Moreover, our NEMA 12-50 outlet was oriented with the ground down, which matches up with the short Enphase HCS-50's plug. If don't have the outlet oriented with the ground down you may want position it to match up with the plug as it is way too short to bend it over to match up with a ground-up-oriented outlet. Overall, the installation was easy, only requiring two angled bolts to tap into our wall studs. In total, it took us about 20 minutes to fully install the unit.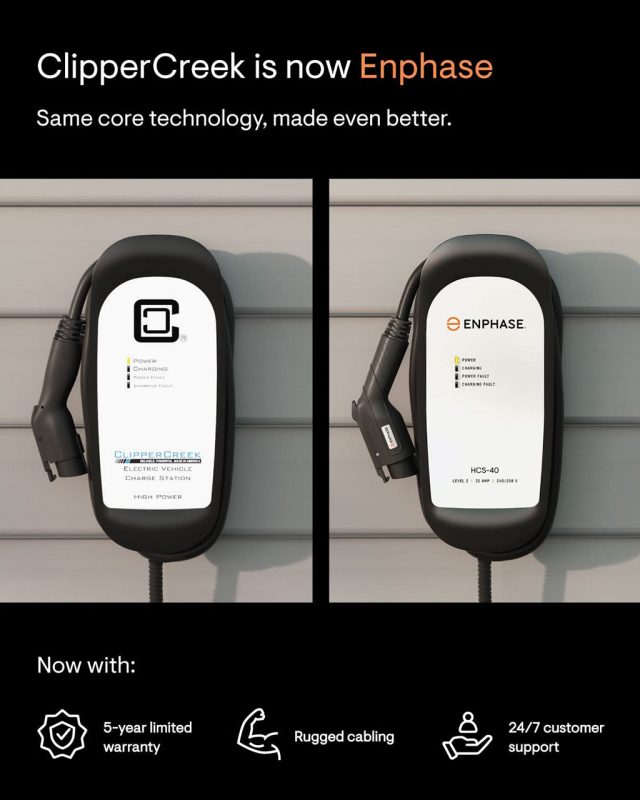 After installation, we put the charging unit to the test with our new Kia EV6 GT test vehicle. In the charging settings of the Kia EV6 GT, we limited the charge to 40-amps, but doing such is said to not be required as the system will recognize that the charging unit's output was maxed out at 40-amps. With a 25-foot charging cord from the Enphase HCS-50 EV charger, we were able to conveniently park our EV6 GT several feet from our garage door to clear our palm trees on the side of our driveway.
The connector and cord of the Enphase HCS-50 felt very substantial and thick, which assured us that the cord and its J1772 plug would last for many years to come. Even the handle of the J1772 plug was somewhat rubberized so would probably survive many drops and makes it easy to grip. Immediately after opening the charging port door of our Kia EV6 GT and connecting the charging cable, the vehicle started to charge, and the Enphase HCS-50 displayed a bright charging status LED light. The Kia EV6 GT ramped up to charge at a steady rate to add about 33 miles per hour to the state of charge, which gave us a full charge overnight, taking just over 5 hours as the battery already had about a 30% state of charge. From the specs, it seems that you could add nearly 38 miles per hour at a rate of around 9.6 kW on some EVs. There are no switches or buttons on the Enphase HCS-50 EV charging unit. You just plug it in and let it do its work.
Being the curious and analytical people that we are in our test drive reviews, we wanted to monitor the charging unit and ensure that it did not get hot, stop working in the middle of a charge, or display a fault, which it never did. In all, after charging about four different EVs on many occasions with the Enphase HCS-50 EV charging unit, we're delighted and satisfied with our home EV charging solution. The only LED indicators on the unit are a power light, charging indicator light, power fault light, and a charging fault light.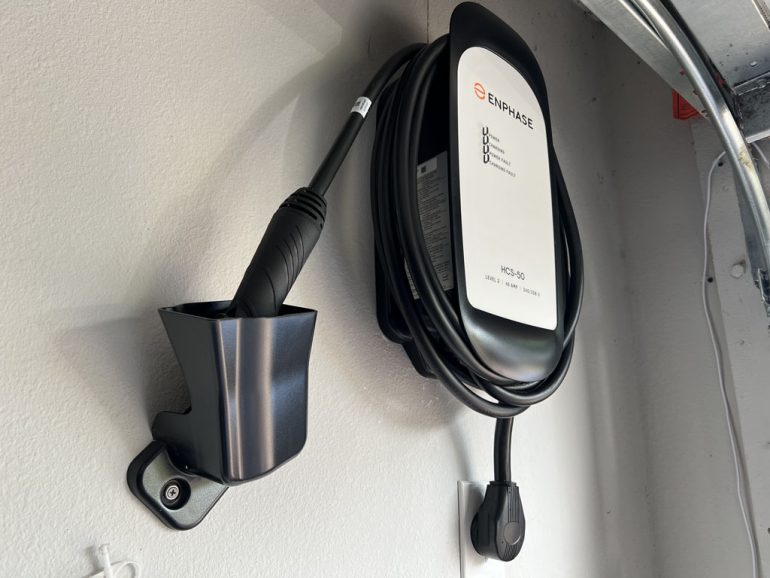 One feature that we do wish we had was the ability to connect via Wi-Fi and a mobile phone app to monitor the charging status and rate. Additionally, monitoring such would be helpful for our home energy monitoring since we have an Enphase solar and backup battery system. However, Enphase has assured us that they will be rolling out charging units with such connectivity, so we will be anxious to get our hands on one and give it a full test on many of our EVs that we get in. Additionally, Enphase will be releasing a bidirectional EV charger at a later date, which is a new effort to utilize your EV as a home backup or added power source.
While the Enphase HCS-50 EV charger is on the expensive side ($835 via Amazon for the NEMA 14-50 plug-in version), we feel that the pricing coupled with a 5-year warranty, which is more than most offer, makes up for the value of this charging unit for most. There is a hard-wired version that is available as well, which ups the amp rating to 48-amps instead of the plug-in version that we have maxing out at 40-amps.
How Much Does a Home EV Charging Unit and Installation Cost?
The total cost for installing a similar EV charging unit (including the charging unit), which includes the fee of a licensed electrician running a new line, installing a new dedicated 50-amp breaker, and a NEMA 14-50 outlet, will run you a total of $1,700 to nearly $2,000. That may seem like a lot to some, but having the convenience and reliability of a home charger and not having to fumble or deal with the current unreliable state of America's charging infrastructure will eventually seem like a good value. Not to mention, you wake up every morning to a full charge ready for your daily commute or travels.