8 Great Weekend Getaways In North Carolina For Summer 2023
BY: Viktor Vincej
SOURCE: https://www.travelinglifestyle.net/8-great-weekend-getaways-in-north-carolina-for-summer-2023/
North Carolina is a state of vast natural beauty and thriving cities with something for everyone. If you're looking to get away this summer, there are plenty of road trips to take you all over the Tar Heel State.
From quaint mountain towns to sprawling suburbs, North Carolina offers ample activities and special destinations the entire family can enjoy. Let's take a look at some of the most popular weekend trips and hidden gems to put on your bucket list for an amazing summer in North Carolina.
Top 7 Weekend Trips for Fabulous Summer Fun in North Carolina:
1. Burke County
Lush greenery, rolling hills, mesmerizing outlooks…all that and more awaits in Burke County. Located an hour east of Asheville and an hour and a half northwest of Charlotte, Burke County is home to the picturesque Linville Gorge Wilderness within Pisgah National Forest.
Hawksbill and Table Rock Mountain offer exhilarating hiking, or you can drive to Wiseman's View for gorgeous gorge outlooks. After a day of exploring the great outdoors, head to nearby Morganton, the county seat and a charming local town with family-friendly restaurants and shops.
2. Charlotte
For a city getaway, look no further than Charlotte, otherwise known as the Queen City. As North Carolina's most populous city and a major commercial hub, there's always something going on to keep you entertained, from live music to art exhibitions and so much more.
Whether it's a road trip or a staycation, Charlotte delivers as a weekend destination for people of all ages who can appreciate the city's rich history, especially the Civil War and the late 1800s. Make sure to check out the Charlotte Museum of History and Levine Museum of the New South for incredible insight into the generations that came before.
3. Crystal Coast
In the mood for sun and sand? Enjoy a weekend on North Carolina's Crystal Coast, home to Harkers Island and 85 beautiful miles of stunning coastline with 56 miles of well-maintained protected beaches.
Cape Lookout National Seashore, New River, and Hammocks Beach State Park are all situated along the Crystal Coast, which boasts a unique mix of gorgeous beach homes and historic sites. Fort Macon State Park and the North Carolina Aquarium are great pit stops to add to your weekend plans, too.
4. High Country
For a change of pace, why not head to North Carolina's High Country? With the Blue Ridge Mountains offering the state's highest elevation, there's a great mix of adventure and awe-inspiring natural beauty up here.
Locals and visitors alike appreciate High Country's abundance of mountain hiking and biking opportunities. The Blue Ridge Parkway is a great place to start with Rough Ridge Trail, otherwise, Elk Knob State Park's Summit Trail and Roan Mountain by Bakersville are also worth checking out.
5. Little Switzerland
Little Switzerland truly feels like you're in another world. This quaint mountain village off State Highway 226A and Blue Ridge Parkway is at least an hour out of the city, giving you the chance to disconnect and unwind with family or friends.
Situated between Marion and Spruce Pine, Little Switzerland boasts epic mountain valley views, plus the Switzerland Inn that stands out in this little town. Make sure to stop by Books and Beans, rated one of North Carolina's best bookstores, as well as the Switzerland Cafe and General Store.
6. Raleigh and Wake County
A weekend trip to the capital city gives you the chance to take in all the sights and sounds of a vibrant downtown area, complete with popular restaurants, museums, and shops. The North Carolina Museum of Art and Pullen Park are top picks for visitors coming to Raleigh from near and far.
The city offers a big farmers market and a jam-packed calendar of events so groups of friends, couples, and families with little ones can all enjoy Raleigh. Plus, the surrounding area of Wake County offers excellent day trips like Umstead State Park and Shelley Lake.
7. Outer Banks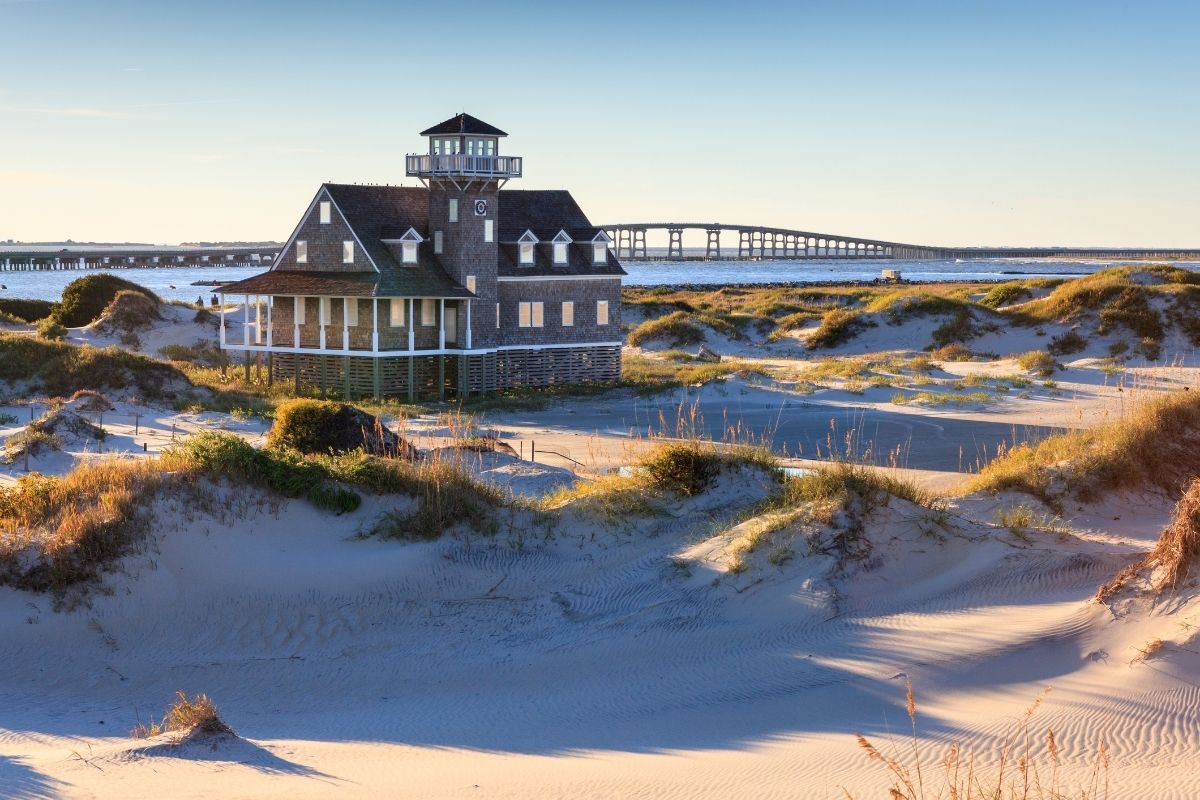 Last but not least, this list of NC summer getaways wouldn't be complete without the Outer Banks. As a chain of barrier islands separating the NC mainland from the Atlantic Ocean, the Outer Banks are known for open-sea beaches and state parks.
Whether you want a relaxing beach stay or an adrenaline-pumping shipwreck scuba dive, the Outer Banks have you covered. Don't miss Roanoke Island and Cape Hatteras National Seashore.
8. Camp Hatteras RV Resort and Campground
Camp Hatteras RV Resort and Campground is a captivating destination nestled along the scenic shores of the Outer Banks in North Carolina. Renowned for its breathtaking coastal beauty, this resort offers a remarkable camping experience for outdoor enthusiasts.
With an array of accommodation options ranging from spacious RV sites to cozy cabins, Camp Hatteras caters to various preferences. The resort boasts well-appointed amenities, including a refreshing swimming pool, a well-equipped fitness center, and a camp store stocked with essentials for a comfortable stay. The pristine beach just steps away invites visitors to bask in the sun, enjoy water sports, or take long leisurely walks along the shoreline.
The post 8 Great Weekend Getaways In North Carolina For Summer 2023 appeared first on Traveling Lifestyle.