2024 Subaru Impreza RS Review & Test Drive
By: Malcolm Hogan
Source: https://www.automotiveaddicts.com/82585/2024-subaru-impreza-rs-review-test-drive
The Subaru Impreza is redesigned for the 2024 model year marking its sixth generation bringing an updated look that retains its contemporary composure. The new 2024 Impreza brings us the rally-inspired RS trim of my test vehicle and a more powerful 2.5-liter flat 4-cylinder engine.
In the scheme of Subaru's aspirations, the Impreza keeps with the singular offering of a hatchback form offering versatility in a simplified, compact package. Trim levels have also been simplified as there are only three trims for the 2024 model year, Base, Sport, and RS. Despite a full redesign, the Impreza doesn't depart far from its previous generation's looks but receives much-wanted updates, such as now having standard LED headlights and equipping most trim levels with the larger 11.6-inch infotainment touchscreen. Moreover, Subaru updates the Impreza to have a stiffer platform and small changes to its overall look where it appears to be sportier than it drives.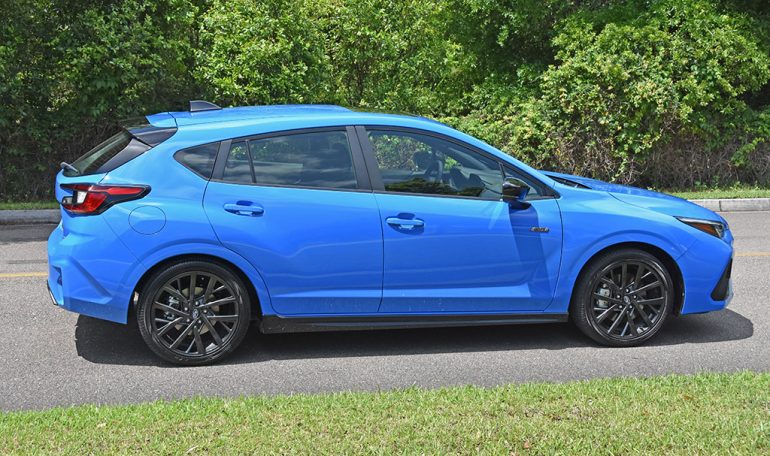 Performance and Driving Character
The Subaru Impreza in recent years hasn't been much of a performer having just 152 horsepower and 145 lb-ft of torque to work with for the only engine offered, a 2.0-liter boxer (flat/horizontally opposed) 4-cylinder. While you could get a 5-speed manual transmission linked up to that engine in the previous years, for 2024, there is no longer a manual offering. Instead, the Impreza now has the choice of the base 2.0-liter engine with the same power output as before and now a more-powerful 2.5-liter boxer 4-cylinder with 182 horsepower and 178 lb-ft of torque as found in my Impreza RS test vehicle. Either engine choice gets mated to a CVT (continuously variable transmission) that has virtual shift ratio points to somewhat emulate a traditional automatic transmission. In fact, the emulation seems to have 8 pre-set ratios that it works around but still manages to adjust in an infinite fashion as it pleases. You can opt to utilize the steering wheel shift paddles equipped on my Impreza RS test vehicle to fire through 8 pre-set virtual gear ratios.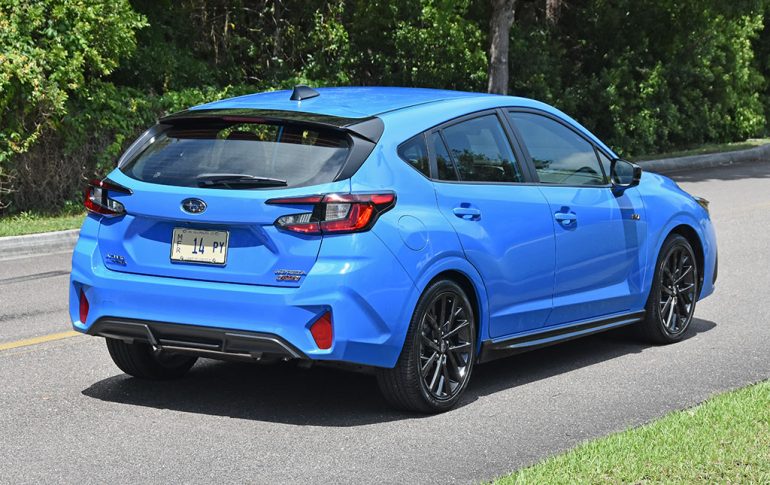 Overall, the more powerful engine is zippy enough that you're not afraid to merge into Interstate traffic as you might be in the base engine. Still, 0 to 60 mph takes about 8.3 seconds, and that's with the air conditioner off and power braking out of the hole. Fortunately, the standard all-wheel-drive system of the Impreza inspires some added assurance out on the road and in inclimate weather conditions. Here, the Impreza shines bright for its performance aspects, touting the expected asymmetrical AWD system.
The way in which the new Impreza drives seems a bit quieter and more refined than what I remember but it doesn't quite translate its sporty looks into how it drives. While the flat 4-cylinder still gets a little buzzy at higher RPMS, it isn't overly intrusive, as is the operation of the CVT, where it exudes a smoother transition than before through its ratio changes to modulate power output and acceleration. The ride quality of the Impreza RS is good without any unwanted surprises. The chassis feels as if it could easily handle much more power without requiring any additional tuning.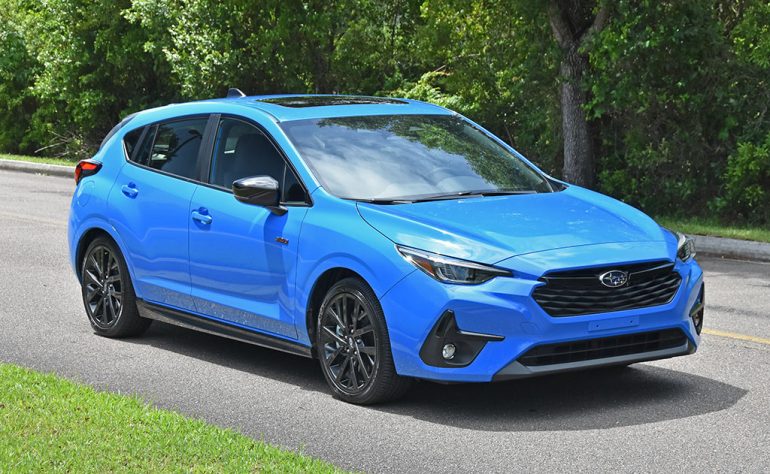 Fuel Economy
The Subaru Impreza with the larger engine doesn't sway far from the base engine's fuel consumption figures, where you only get about 1 mpg less in each category. The EPA estimates of 26 mpg city, 33 mpg highway, and 29 mpg combined is pretty much dead on what you expect to get in the real world, as I experienced during my week with the Impreza RS.
Interior and Technology
The cabin of the new 2024 Impreza retains much of its traditional and conservative theme, and the updates seem to be on the side of making the interior quieter and retaining decent ergonomics for seating areas and positioning. There's nothing that really jumps out at you other than the focal point being the large 11.6-inch portrait-oriented infotainment touchscreen. The Starlink multimedia system with the 11.6-inch screen, which comes standard on the Sport and RS trim levels, is pretty straightforward in its ease of use. The system does have some slow-to-respond functions at times, but after spending a couple of days, you become accustomed to its overall operation. The integration of wireless Apple CarPlay and Android Auto is welcomed as my use of Apple CarPlay proved to be enjoyable considering how the system displays a large version of CarPlay and retains the essential vehicle functions on the screen, such as the dual-zone automatic climate controls and a top area that can be set to display a variety of vehicle data and a preview of the audio system. It is nice to have a set of dedicated physical buttons on the sides of the screen for temperature adjustment, front and rear defrosters, a volume knob, and a tuning knob.
The upgraded Harmon Kardon audio system with 10-speakers, which you can only get in the Impreza RS trim, is another welcomed update that sounds better than all previous year audio systems in the Impreza. Still, the system could use some work on its clarity, even though they finally simplified the tone adjustments.
The cloth heated seating areas up front are good and often prove to be comfortable, offering power adjustments for the driver's seat and manual adjustment for the passenger seat. The rear seating areas are surprisingly accommodating for at least two adults and maybe one small child in the center. The cargo area is also a plus, with about 20 cubic feet behind the rear seats and as much as 56 cubic feet if you fold the 60/40-split seatbacks down.
Safety
Subaru's quest of including several active safety features follows the Impreza, where all trims include the latest iteration of the EyeSight Driver Assist Tech as standard, which bundles up adaptive cruise control, forward collision warning, automatic emergency braking, and lane departure warning/mitigation/keep-assist. However, automatic emergency steering and blind-spot detection remain as a package option but are standard on the Impreza RS.
Price
In today's automotive landscape, where the average price of a new vehicle has reached $48,000, it's very refreshing to see vehicles like the new Impreza retain a level of civility with a base starting price of just $24,085. My top-trim Impreza RS test vehicle starts at a price of $28,975 and comes well-equipped as it is without any option packages, which remains competitive when pitted against its competition.