11 Best Camping Sites in Connecticut to Visit in 2023 + MAP
BY: Viktor Vincej
SOURCE: https://www.travelinglifestyle.net/best-camping-sites-in-connecticut/
Every state has its hidden gems, and Connecticut is no exception. From austere forests that you could wander through for days to the playful ocean that borders one side of the state and offers fun and peacefulness for all of the state's visitors.
The state of Connecticut is full of trees, and rivers, and it sits next to the ocean. It's not a tourist state, that is true, but that doesn't mean you should discount it on your next vacation. It's a beautiful state, filled with forests, beaches, history, and culture.
If you're doubtful, stop by one of the many amazing campgrounds or national parks on this list. You will soon change your mind and more than that you'll be back to visit again.
Check out cool camping gear for your trip:
Here are just a few examples of where you can find the endless expanses of beautiful wilderness in the great state of Connecticut:
Best Camping in Connecticut – MAP
Seaport RV Resort and Campground
Phone: (860) 536-4044
Address: 45 Campground Rd, Old Mystic, CT 06372
Activities:
Pool

Basketball

Volleyball

Bocce ball

Pickleball

Mini-golf
This lush RV resort and campground sprawl near the coastal shores of Connecticut and Rhode Island. Make it your base home, and you can conveniently reach the Foxwoods Resort Casino and Mohegan Sun Casino, as well as the charming town of Mystic, which offers all sorts of maritime activities.
However, the campground itself has plenty of on-site amenities too. Dip in the swimming pool during hot summer days and cozy up to a fire on chilly nights. You can also engage in various sports, from basketball to volleyball, horseshoes, mini-golf, bocce ball, pickleball, and more.
Seaport RV Resort and Campground have a variety of pet-friendly back-in and pull-thru RV sites. They all include a picnic table, fire pit, cable TV, and Wi-Fi service. Both primitive and water and electricity grassy tent spots are available too.
Don't have an RV but would like to stay at one? You can rent one directly at the campground.
Macedonia Brook State Park
Phone: (860) 927-4100
Address: 159 Macedonia Brook Rd, Kent, CT 06757
Activities:
Hiking
Fishing
Wildlife viewing
Birding
Biking
Looking to escape the busy city life? Macedonia Brook State Park is a perfect spot to relax and reconnect with nature. It spreads over 2,300 acres and is home to a number of forests, brooks, streams, and rivers. Also, it offers an array of things to do.
Hiking is very popular there – you will find trails for all abilities and levels. Some of them are a bit steep and rocky but they all offer beautiful views of the nearby Catskill and Taconic Mountains in return.
Unfortunately, swimming isn't permitted but fishing is. Other activities include birding, wildlife watching, and biking.
The campground consists of 51 rustic sites – some of them are designated for trails and RVs while others are meant for tent camping. Fire pits, grills, and picnic tables are available but be prepared for pit toilets and no showers.
Mystic KOA Holiday
Phone: (860) 599-5101
Address: 118 Pendleton Hill Rd, North Stonington, CT 06359
Activities:
Set amidst century-old maples, dainty stone walls, and the reproduction colonial architecture of New England, this family resort provides the best camping Connecticut has to offer.
It boasts modern facilities and a range of campsites, from easily accessible pull-thru sites to secluded tent sites and a three-acre field for groups. If you don't feel like roughing it, cozy camping cabins, as well as deluxe cabins, are available too.
Amenities include two swimming pools, a mini-golf, a fishing pond, and an outdoor cinema.
The nearby Rhode Island beaches are a perfect place to relax. While there are also a lot of popular tourist destinations in the area, including Foxwoods Resort Casino, Mohegan Sun Casino, the Mystic Seaport Museum, or Mystic Aquarium. One simply can't get bored when staying at Mystic KOA.
Cozy Hills Campground
Phone: (860) 567-2119
Address: 1311 Bantam Rd, Bantam, CT 06750
Activities:
Laser tag, movie nights, and other company-led activities

Swimming

Arcades
Cozy Hills is surrounded by a beautiful forest ready to explore. There is not a lake, but the campground offers a pool for visitors to swim in. The woods are filled not only with adventure but also with fun activities such as movie nights, laser tag, and a bounce house that is run by the campground.
This campground offers everything from pop-up tent sites to cabin rentals. Prices start relatively high, but this is a nice, clean campground with every amenity you can think of.
It may be pricey for rustic camping, but this is a campground for glampers. Most reviews praise the variety of activities that this campground has to enjoy, as well as its cleanliness.
Devil's Hopyard State Park
Phone: (860) 424-3200
Address: 366 Hopyard Rd, East Haddam, CT 06423
Activities:
Birding

Hiking and biking

Fishing
When you think of austere wilderness, you think of Devil's Hopyard State Park. This quiet area is blessed with a beautiful forest full of waterfalls and scenic trails. Many visitors who live in the area make often visits; it's the perfect place to get some exercise in, even if you aren't planning to camp there.
There are only tent sites available at this campground, but this can be a blessing for those who enjoy rustic camping. It means less noise, fewer people, and more peace. Sites are cheap and available on a nightly basis.
Among visitors, this spot in the middle of Connecticut is known for the amazing views. Still, while this is the main draw of the campground, reviews also talk about the peace, quietness, and accessibility of the trails.
We recommend to come early to avoid crowds.
Hidden Acres Family Campground
Phone: (860) 887-9633
Address: 47 River Rd, Preston, CT 06365
Activities:
Petting zoo and hayrides

Volleyball, basketball, horseshoes

Swimming and fishing
Hidden Acres Family Campground is placed on the banks of the Quinebaug River. It is nestled in a beautiful forest that has been used well by the campground. Not only does it offer many opportunities to get involved in nature and watch wildlife, but it also has been used to provide opportunities for sports and other activities.
There are cabins available for rent, as well as trailer and tent sites. You can rent those by day, week or month. Bear in mind that the prices vary depending on the season.
Most of the reviews praise the wildlife and the nature that surrounds the campground, and it isn't hard to see why. The nature in and around this area is pristine and beautiful. It's hard not to be stunned by the wilderness around your campsite.
Water's Edge Family Campground
Phone: (860) 642-7470
Address: 271 Leonard Bridge Rd, Lebanon, CT 06249
Activities:
Fishing and birdwatching

Swimming

Canoeing and kayaking
Water's Edge Family Campground is placed where you may expect — right on the water's edge. It surrounds Mathiew Pond, a great fishing spot, and is hidden within a lush forest.
The forest offers many opportunities to spot wildlife, while the pond features fishing, canoeing, kayaking, and swimming. The surrounding nature is truly what makes this campground special.
Visitors are welcome to stay for a night or the entire season. You can pitch your tent or rent one of the cozy cabins. Unluckily, RVs are also permitted.
The spacious campsites and activities were praised in almost every review. There are a lot of fun activities for both adults and children. The campground is also very clean, and safe.
Kettletown State Park
Phone: (203) 264-5678
Address: 1400 Georges Hill Rd, Southbury, CT 06488
Activities:
Kettletown's Forest is one of the best ones in the area. There is a wide variety of plant and animal life, as well as hiking trails that vary in difficulty. No matter who you are and what skill you have, you will find a hiking trail that appeals to your needs here.
There are both campsites and rustic cabins available for rental at this campground. Although they don't have many amenities, the prices are low, and the hiking trails are easily accessible, which is a big plus. It is definitely a campground for those who want to get close to nature.
What draws the crowds to Kettletown State Park is the fantastic animal and plant wildlife. Many love the hiking trails, too. But the nature that visitors can find and explore at Kettletown is what sets this campground apart.
Hammonasset Beach State Park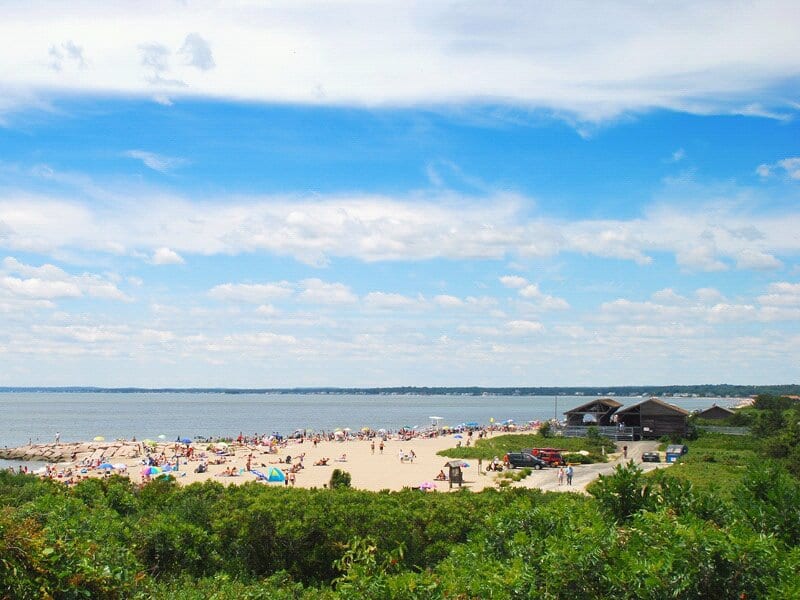 Phone: (203) 245-2785
Address: 1288 Boston Post Rd, Madison, CT 06443
Activities:
Nature Center

Fishing and swimming

Hiking and biking
The Atlantic is hard to resist at this campground. It is an immense body of water, but here, it is looking right over your shoulder. And residents wouldn't like it any other way around. The ocean offers many water-based activities to engage in. There are also numerous walking trails.
Stay at one of the water and electric hook-up sites. Unfortunately, there are no cabins for rent at this park.
As this campground is on the coast, the reviews won't let you forget it. Many reviews praise the clean and well-run campground, but more are stunned by the beautiful beaches and pristine water. Saltwater fishing draws many, too.
Wilderness Lake Campground and Resort
Phone: (860) 684-6352
Address: 150 Village Hill Rd, Willington, CT 06279
Activities:
Hiking and biking

Swimming, boating, and fishing

Volleyball and game rooms
Located right next to Halchek Pond and within a beautiful forest, this is another campground that offers plenty of opportunities to explore the wilderness.
Many visitors recommend the pond for fishing, swimming, and kayaking. It's a really nice pond, complete with many examples of Connecticut wildlife. The forest is also open for exploration if the water isn't your thing.
There is a large variation in sites, so it is best to look at a site map before choosing your location. There are both RV and tent sites available. They feature different amenities, another reason to take a look at a site map before selecting your spot.
Many reviews mention the beauty and accessibility of the water that is located close to the campsites. Other visitors are drawn in by the plentiful opportunities to practice water sports.
Black Rock State Park
Phone: (860) 283-8088
Address: 2065 Thomaston Rd, Watertown, CT 06795
Activities:
Hiking

Fishing and swimming

Field sports
There is a small brook running through the campground that facilitates fishing and swimming, but this is by no means the most enticing part of the campground. Many visitors come for the trails, which are numerous and stretch far into the forest surrounding the camp. There is enough space to find an empty trail, even on a busy day.
There are two ways to stay in, rustic cabins and traditional campsites. While both are relatively primitive for someone who might be used to glamping, the sites are cheap and clean, and the trails are worth any inconvenience you may have to get to them.
The trails are once again the star of the show in the reviews. Many people praise the variety of trails — if you went to get away from the bustle of a city, it is easy to keep your distance from other hikers or visitors. Others like the cleanliness and kindness of the staff.
---
There you have it, proof that this state is absolutely full of endless beauty and expansive wilderness. It's easy to find an attractive campsite for anyone, with any interest.
Are you ready to plan your next family vacation, making many pitstops in this fabulous state? Lucky for you, it is one of America's hidden gems. Although the forests are ethereal and gorgeous and the ocean is awe-inspiring and full of fun, not many people consider Connecticut to be a tourist's dream.
Now that you know better, you can use this to your advantage. Campgrounds and national parks there are beautiful, of course, but they are also attractive to many because of how few tourists there are. So take your pick of these amazing campgrounds and national parks.
There's something for everybody in Connecticut, from hiking to swimming, fishing to boating. The best part is that every park on this list is amazing; you just can't go wrong. Enjoy your vacation at one or more of these fabulous locations. Contact the office of your personal favorite today to start planning for your trip into the great and beautiful Connecticut wilderness.
The post 11 Best Camping Sites in Connecticut to Visit in 2023 + MAP appeared first on Traveling Lifestyle.